Property Overview
Located in Lancaster, OH and serving the greater Columbus area, Canine Academy is situated on 7 acres of green landscape. We believe that a core input to an effective training strategy for your dog is regular exercise. With our large, fenced-in play field combined with hiking trails for stimulating walks, our property is the perfect place for your dog to have access to fresh air and exercise while not in training.
Find out why so many have trusted Canine Academy
Campus Highlights
The Canine Academy campus is more than just its outer beauty. Around every corner, you'll find dogs working and playing.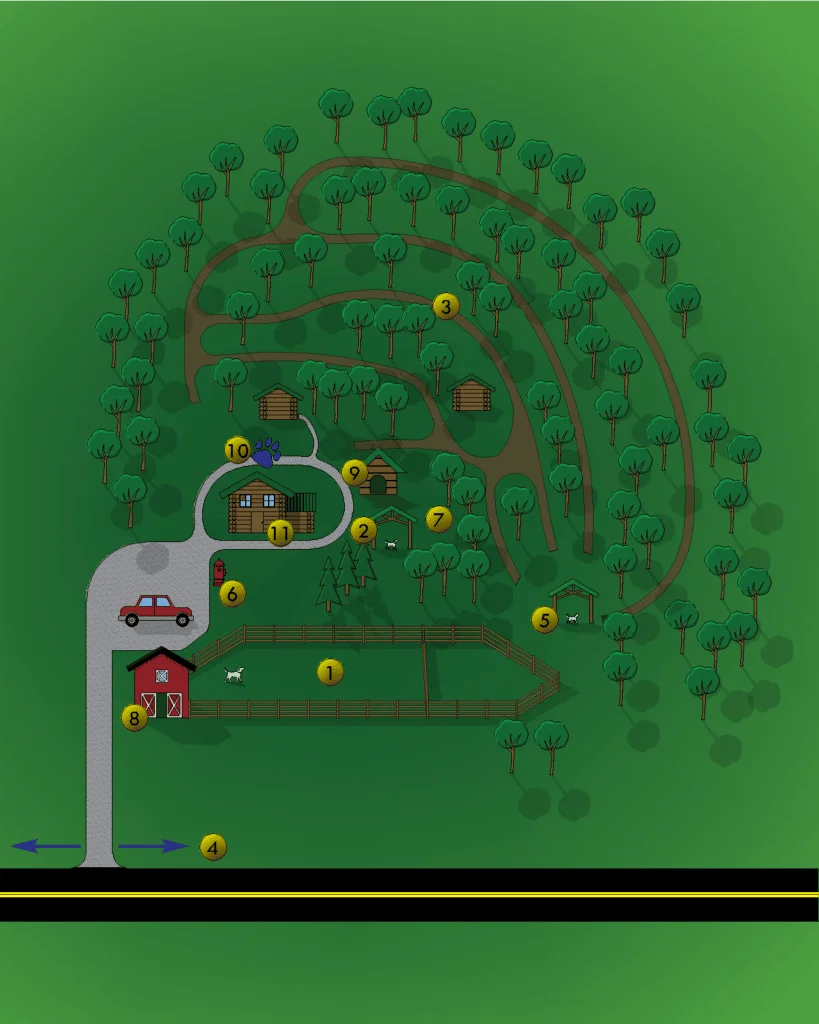 The Great Outdoors
Play Field. The first thing you'll notice when you head up our drive is over an acre of open play field. This area is home to many playgroups, and also provides a safe area for our trainers to practice long distance recalls.
Pavillion. Attached to our small dog kennels is an outdoor pavilion. This area keeps our smallest residence cool in the summer heat and out of the elements in the winter cold.
Nature trails. Our campus is home to over a mile of private trails. Each dog gets several daily walks to explore the sights and smells of the woods. Our trainers also work regularly on the trails to improve dogs' off-leash walking with distractions.
Nearby neighbors. Although our campus is located on a large property, we are still nestled into a small neighborhood. This give our trainers the opportunity to practice road safety on walks.
A Safe Place to Rest
8. Large Barn. Home to our large breed dogs and dog families. Our homey runs are between 36 and 100 square feet – plenty of room to rest up for the next play session or stretch out your paws.
9. Small Barn. Home to our small and medium sized dogs. These private air-conditioned runs provide a nice quiet place to relax and recharge.
Main Residence 
10. Main Office. Located at the rear entrance of the residence, you can expect a warm welcome for you and your pup from our dedicated Care Team. As a hot spot of new people and dogs, our trainers also spend a lot of time working here – our graduates must be able to resist distractions!
11. Residence. While our dogs and Care Team rest each evening, our on-site manager ensures that the dogs in our care stay safe at night.