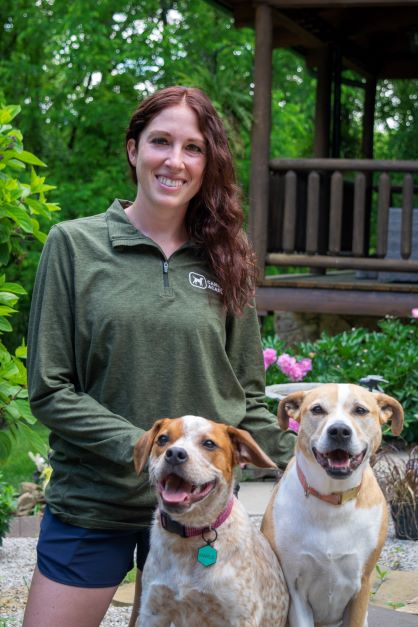 Shannon Busher
Shannon has been a certified Canine Academy trainer for the last 2 years, working directly with Terry Cook to train over 250 dogs with positive reinforcement techniques.  Before finding her true passion as a dog trainer, Shannon was educated in Equine Studies. Shannon began her dog training career as an agility handler where she competed in CPE trials with her dog. 
Shannon believes that dog training is important because dogs require leadership and guidance in order to maintain healthy relationships with humans and other dogs they may interact with. Shannon's favorite part of being a dog training is helping families create stronger bonds with their dogs. She has had clients tell her they have never been able to cuddle or pet their dogs because they weren't able to achieve a calm or relaxed state prior to obedience training. Shannon is most proud of the work she did with a dog that was 100% deaf. The owners didn't know how to communicate with him until Shannon stepped in to help bridge the gap. At the end of the training, the owners and the dog were able to communicate more effectively and the dog's behavior did a 180. 
In her free time, Shannon enjoys spending time outdoors, especially gardening or hiking. Shannon has two pups of her own Heidi and Maple. 
Maggie Mettler
Maggie is the first graduate of the Canine Academy Training Apprenticeship Program. As part of this program, Maggie spent 6 months working as an apprentice for Terry Cook, training 36 dogs with our techniques. As a successful graduate from the program, Maggie is now certified in the Canine Academy Positive E Collar Methodology.
Maggie's love for dog training began with her current pup, Ringo. Maggie felt passionately about having a well-trained dog and, as a result, she began leveling up her dog training education and working with Ringo. 
Maggie believes that dog training is important because it gives the dog a sense of direction while also creating a stronger bond between dog and owner. Maggie's favorite part of being a dog trainer is seeing the impact she has on each dog, training them to have proper obedience and off-leash control. Maggie prides herself in her ability to understand and respond to a dog's body language and adapt her approach based on their behavior. 
In her free time, Maggie enjoys spending time with her friends and family, hiking, or going to the park (all with Ringo in tow!).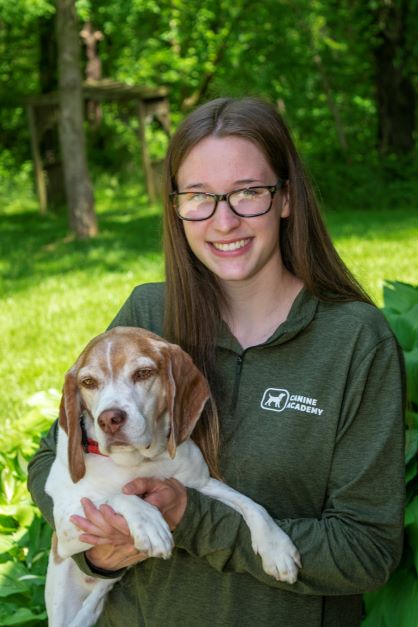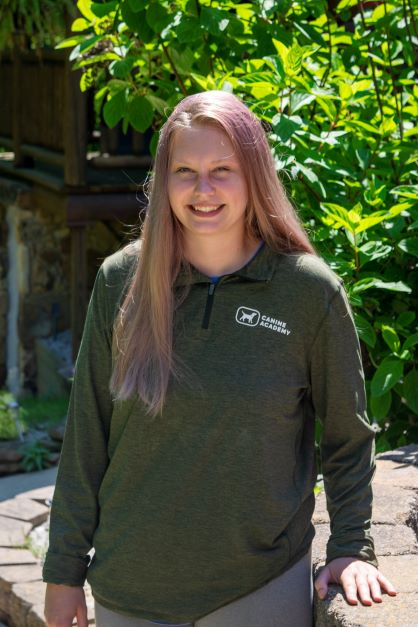 Jacey Wentz
Jacey is our second successful graduate from the Canine Academy Training Apprenticeship Program. Before becoming a trainer, Jacey worked as a Kennel Technician on our Care Team where she worked diligently to ensure every dog on our property was cared for while not in training. 
Jacey's passion for dogs originated from her childhood pup, Milo,  and while she might try to convince you her favorite animal is a dog, her pet snake would likely disagree. 
Jacey believes dog training is important because it provides your dog with mental stimulation while building confidence and helping both dog and owner better understand one another. Jacey's favorite part of being a dog trainer is seeing the positive change every dog and owner go through after staying on our campus. Jacey is most proud of her her experience working with a dog that was scared of new people and the kennel. Through intentional obedience training, Jacey was able to eliminate this behavior by creating confidence and building communication with the dog. At the end of the training, he enjoyed meeting new people and was no longer afraid of his kennel. 
In her free time, Jacey enjoys fishing, spending time outdoors and with her pups, Loki and Finny, or taking care of her "zoo." 
Zeke Brock
Zeke joined Canine Academy in 2019. Before Terry Cook's retirement in 2022, Zeke trained 453 dogs under Terry. 
A lifelong dog lover, Zeke wanted to take his ability to get a dog to shake or roll-over to the next level. Now a certified Canine Academy Trainer, Zeke has turned his love for animals into his career, adept at both basic obedience training and public access training. 
Zeke believes dog training is important because it improves the quality of life for both owner and dog, unlocking the ability for both to have more freedom and enjoy new experiences together with reduced stress. Zeke's favorite part of being a dog trainer is seeing the joy from the owner when they realize they can own a dog that complements their lifestyle, vs being an added stressor. Zeke is most proud of his experience working with a therapy dog who went on to ace its exam and receive certification. 
In his free time, Zeke enjoys playing disc-golf and can often be found on the course practicing obedience with a current dog in training.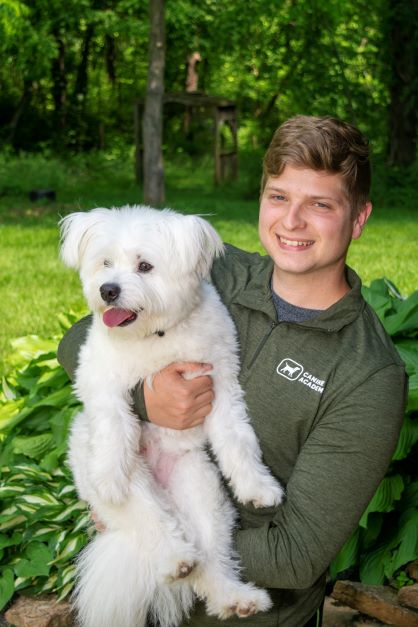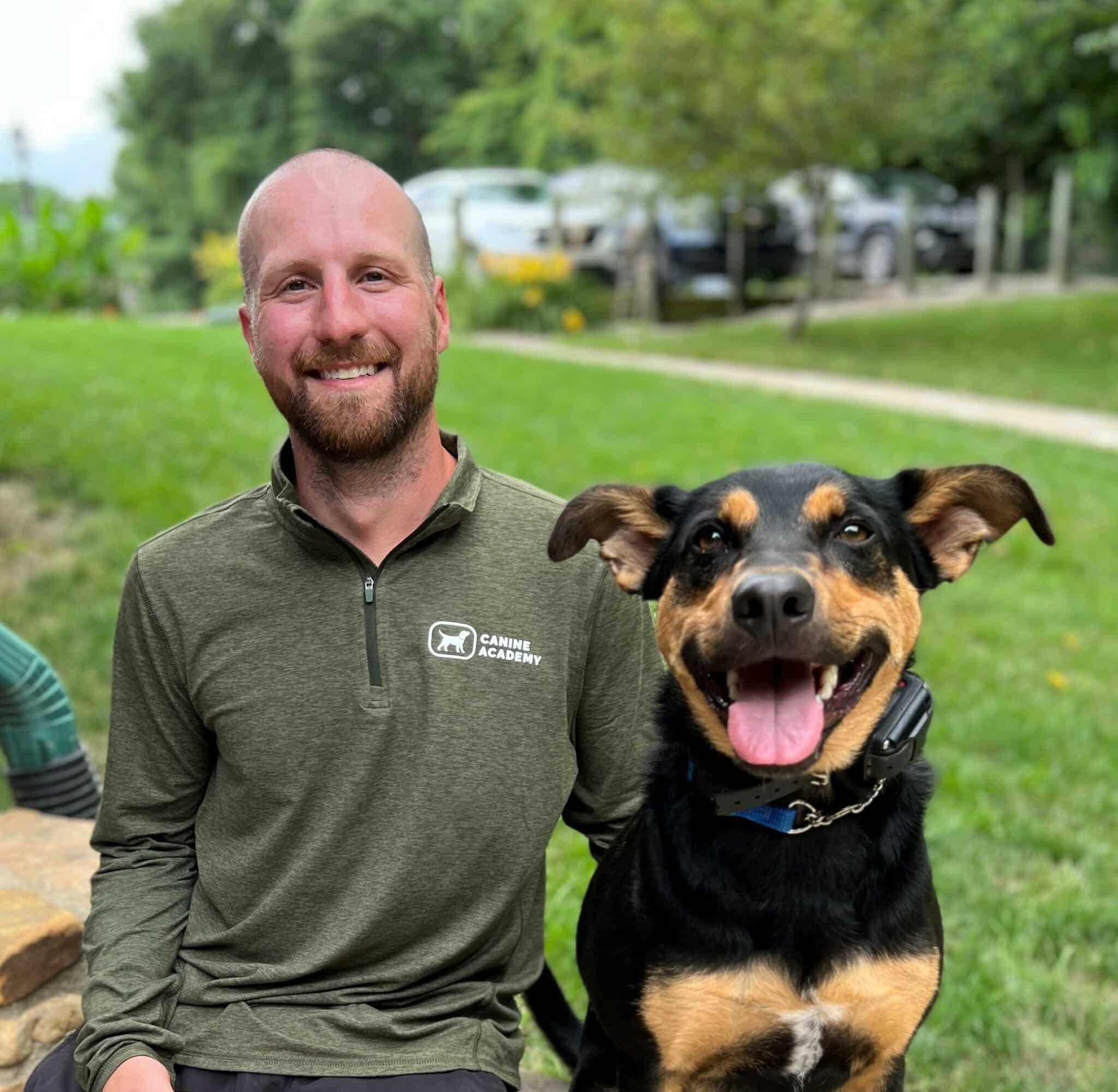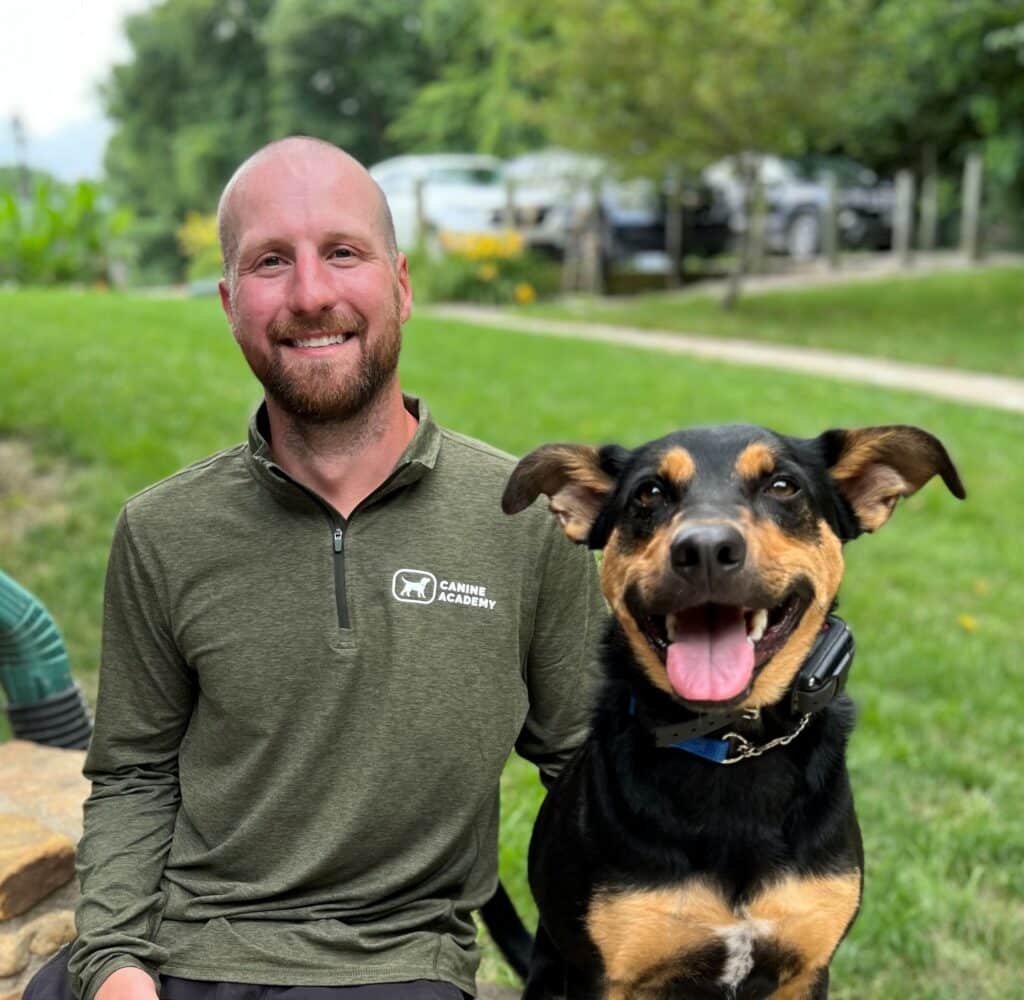 Jason Lukwinski
Jason began his dog training career in 2020 after graduating from the Highland Canine School for Dog Trainers and has spent time working on various training techniques including, agility, trailing, and even police canine work. After discovering that he could turn dog training into a career, Jason next looked back on his old job. 
Jason believes dog training is important because it creates a new bond between the dog and dog owner that isn't possible to achieve without training. Jason's favorite aspect of being a dog trainer is that he is always moving and never bored. Every dog has their unique differences and every trainer uses techniques that can be valuable to others.  Jason is most proud of training his current dog, Zazu, after rescuing him. Zazu was on his 3rd owner after being surrendered twice due to his learned behaviors that came out of stress and anxiety. Since, Zazu has been through training and his unwanted behaviors are a thing of the past. 
In his free time, Jason enjoys golfing, catching the latest game, and of course hanging out with Zazu. 
Emma Sines
Emma joined Canine Academy in early 2022, but her desire to become a trainer started with her grandparents' yellow lab, Sunny. At a young age, Emma would spend time training Sunny in her grandparents backyard and attributes her love of dogs to the bond dogs created between her, her Grandfather and her uncle, Shawn. 
Emma believes dog training is important because it truly has the ability to change a dog's life, giving them a companion they are more bonded to and the guidance and confidence they need. Having a dog that is capable of being off leash also means giving your dog the chance to explore the world, backed by the knowledge and trust that their owner will keep them safe. Emma's favorite part of being a trainer is having the ability to teach a dog a new way of communicating and she is most proud of the training work she did to successfully train a pup that had previously had a negative ecollar experience. 
While not in class (Emma is in her first year of grad school to become a Speech-Language Pathologist), Emma enjoys spending time with family and exploring new places with her husband and their dog, Broney.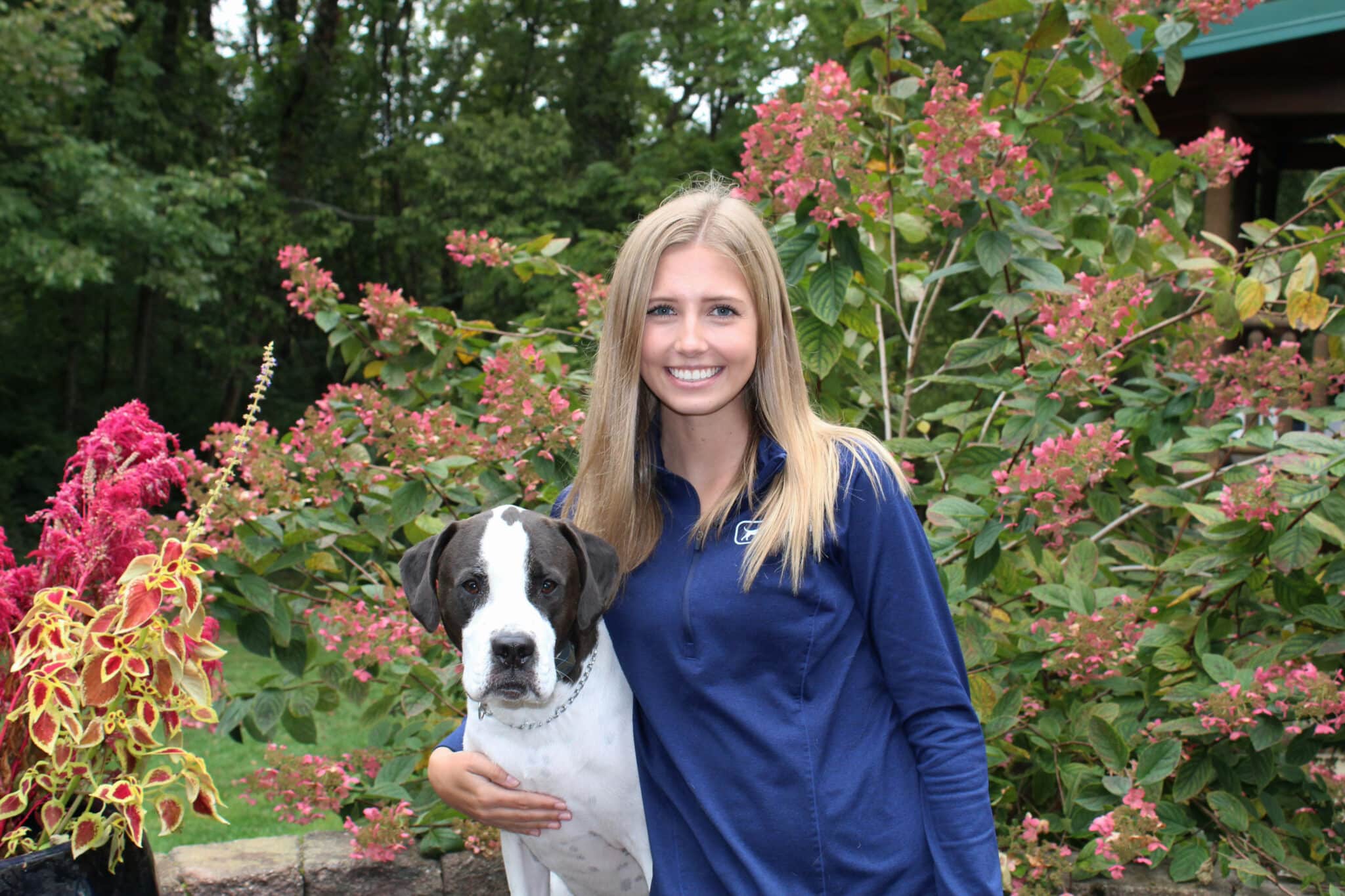 About Columbus Dog Trainer Terry Cook
Canine Academy, formerly Top Dog Training by Terry Cook, has an expansive history of dog training expertise in Columbus, Ohio. Our training methods were first developed and refined over 30 years by the previous owner and expert dog trainer Terry Cook with Top Dog Training.
Terry Cook is a world-renowned dog trainer who dedicated his life to developing positive dog obedience training methods that are safe and effective, helping to reduce unwanted behavioral issues and create a strong bond between dog and owner. Importantly, Terry Cook's e-collar method produces consistent results regardless of a dog's age, breed, or disposition.
Terry Cook's proven dog training techniques came to life at his former company, Top Dog Training Columbus, and have since been passed down to the current Canine Academy Professional Trainers. Our training staff has over 10 years and 1000 dogs of combined experience apprenticing with Terry Cook to learn his dog training methodology while honing their own problem-solving approaches. This time-tested technique has evolved into the Canine Academy Positive E Collar dog training methodology.  
In late 2021, Terry Cook partnered with three new owners, Emily Saving, Beth Britt, and Nikki Cupp. to combine the best of both worlds to offer the best dog training in Columbus, Ohio. Terry's safe and effective dog training techniques are now delivered from operational executives with the highest standards for delivering our products – including standards for kennel care, customer communication, and customer education and satisfaction.  
The next generation of Canine Academy leadership is eager to continue Terry Cook's tradition as the best dog trainer in Columbus, Ohio.