The Highest Standard of Dog Training Obedience
Even the most energetic, distracted, or stubborn dog can show a dramatic improvement in behavior in as little as one week with professional obedience training. Following your pup's training with us,  our dedicated team of trainers will work with you to ensure that your results stick. Canine Academy graduates stand out in a crowd based on their patience, attentiveness to owner, and reliable off-leash behavior. During training, our trainers consistently seek out distractions for your dog, so that you get a reliable, obedient dog no matter where you go.
Each dog in our program must pass a progress assessment prior to the end of their intensive training phase. No student leaves our program until they receive a "good" or "excellent" score on each of the skills required by a Canine Academy graduate. But your dog's growth doesn't stop there. Over the next 90 days, you can expect continued improvement in patience and attentiveness, even when you graduate to daily life without your e collar remote.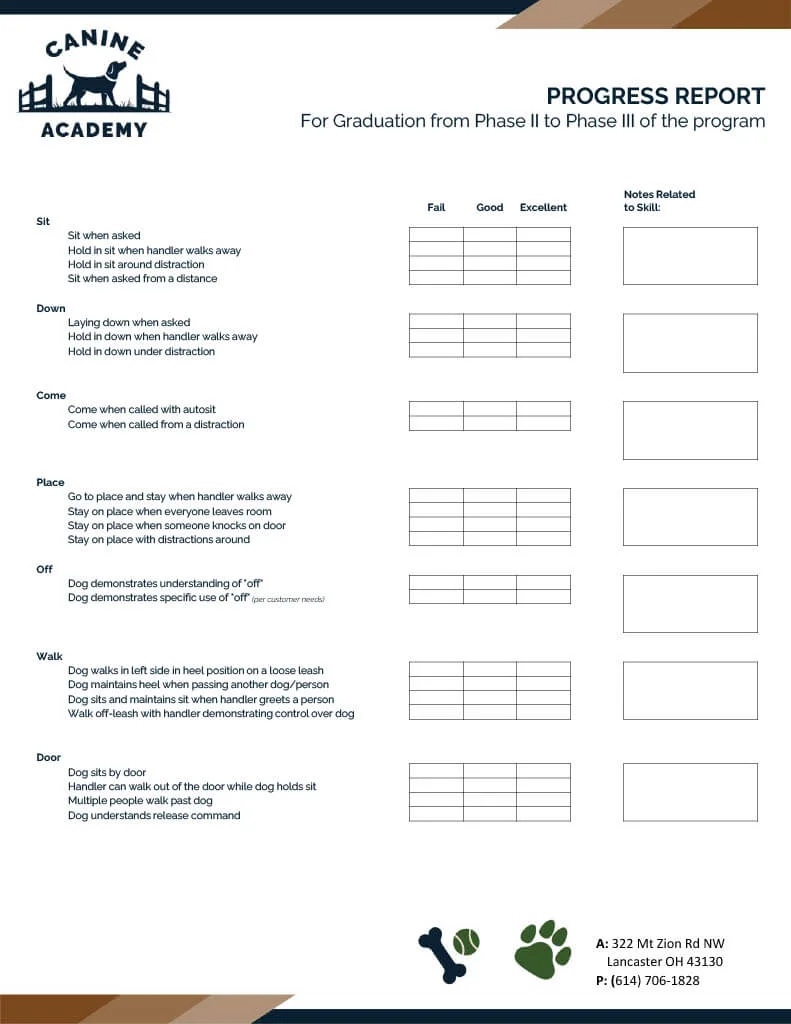 Before and After Training Results 
One standard of excellence, delivered three ways. Canine Academy offers our basic obedience program with three unique ways to partner with us. Whether you choose a full board-and-train program, private lessons with your dedicated trainer, or a hybrid of the two, you can expect the same results (and support!). Here is just a sample of Canine Academy's basic obedience results. You can expect the same standard of excellence no matter which program you choose.
Take our behavioral assessment and a member of our team will reach out to discuss how to achieve your specific training goals
Training Results That Last a Lifetime
We commit to supporting your dog's long-term success. Canine Academy's programs include scheduled follow-up appointments for 90 days. This schedule ensures that your new skills transition well to your home life. Additionally, our trainers are available for support during scheduled office hours, and welcome all graduates back for free group classes.
On rare occasions a customer needs more support from Canine Academy to navigate any unexpected problems. In situations where our 90-day support program hasn't met your needs, we offer the following escalation procedure:
Phone or Video Call 
First, we conduct a phone or video call to diagnose the problem and offer guidance. (Many times we find the dog is not performing to the expected result because the dog owner is making mistakes with his/her role. We can usually diagnose these problems over the phone or with a video call.)
Group Classes and Office Hours
If that call fails to get results, we invite you to attend a group class or a trainer's "office hours" so we can see the dog in action and attempt to triage the problem.
Onsite Lesson
Third, we will schedule an onsite lesson to troubleshoot further. We will assign homework for you to continue progress on your own at home.
In-Home lessons or Board and Train
If none of the above tactics have worked, we will offer you a series of in-home lessons or a three-night board and train to remediate problems and get your dog back on track.
Dog Training Frequently Asked Questions